Submersible Water Pumps
R125.00 – R500.00
Description
Submersible Water Pumps are used to circulate nutrient-rich water in NFT and other hydroponic systems.
Choosing the right water pump will be determined by how high the pump would need to lift the water. ( In the table below the listed Head Height is the height where the pump basically stops pumping any water. ) The prescribed flow rate for NFT hydroponics per channel is between 1 and 2 liters of water per minute. Choosing a pump slightly larger than the one that meets your minimum requirements is advised, as the flow rate can then be throttled back slightly by using an inline tap.
| Model | Output | Head | Pipe Fitting Size | Power Consumption |
| --- | --- | --- | --- | --- |
| Grech HJ-542 | 400 L/h | 0.8m | 12mm | 5w |
| Grech HJ-742 | 600 L/h | 1m | 12mm | 8w |
| Grech HJ-942 | 800 L/h | 1.3m | 12mm | 16w |
| Grech HJ-1142 | 1000L/h | 1.6m | 15mm | 22w |
| Grech HJ-1542 | 1400L/h | 2.0m | 20mm (Needs hose clamp) | 28w |
| Grech HJ-1842 | 1800 L/h | 2.5m | 20mm (Needs hose clamp) | 40w |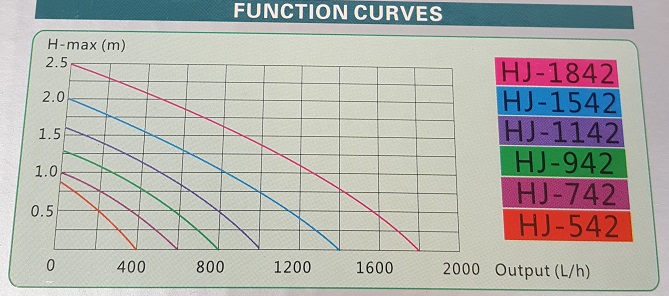 The Grech pumps come with 2 pipe fittings, the standard fitting (mentioned in the table above), used to connect to piping to lift/move water. The 2nd fitting ( with the little T-piece on the side, attached to clear piping ) is actually a venturi adaptor and can be used to aerate tanks of water, INSTEAD of lifting/moving water. This venturi really only works well on the larger models (HJ-942 and up) and is also dependent on how deep the pump is submerged. THIS video shows how a venturi can be used to aerate and agitate water.
The Grech pumps come with a filter sponge and needs to be cleaned regularly. All you need to do is put a dab of soap on it (optional) and work it in under running water, then rinse it out thoroughly.