EC – Electrical Conductivity ( TDS – Total Dissolved Solids)
This is a measurement of the strength of a nutrient solution. It is also known as CF (Conductivity Factor), but since CF is only one decimal place away from EC, we will stick to EC. The measurement of EC is in milliSiemens per cm (mS/cm). It is a measurement of the strength of the nutrient solution as a whole and will not tell you if one or more of the nutrient salts is out of balance. Plants take up different nutrient salts at different stages of growth and in different climatic conditions, as well as different pH levels.. The speed that different nutrient salts are taken up also varies. For instance, nitrogen is taken up quite quickly, but calcium is a slow mover! For the home grower it is advisable to change the nutrient solutions at regular intervals, say every week in summer and every two weeks in winter.
If the EC rises, it means that the plants are taking up water faster than nutrients. This usually happens in hot weather, when the plant tries to keep cool. When this happens you add water until the required EC is reached. On the other hand, if the EC falls, the plant is taking up more nutrients than water, so you have to add more nutrients.
If you are a serious home grower you will obtain an EC meter and have the peace of mind that your plants are being fed optimally. The EC meter should be calibrated regularly, say once a month.
The practical use of EC readings becomes apparent when you realize that plants can be categorized into low, medium and heavy feeders. It follows from this that you should feed plants in the same category together from one reservoir if you are going to attain optimum results. If you feed lettuce with a high EC intended for tomatoes, the lettuce can become bitter. Likewise, if you feed tomatoes with a low EC, suitable for lettuce, the tomatoes will be tasteless!
Convert TDS and EC readings
TDS = EC reading (in milliSiemens/cm) times 1000 and divide by 2.
EC = PPM times 2 divide by 1000
pH
This is the measure of acidity or alkalinity of a solution, on a scale of 1 to 14, where the neutral point is 7. Most plants in soil grow best in a pH6.5 – 7.0conditions, while hydroponically-grown plants prefer slightly more acid conditions. You should aim for a pH of between 5.5 and 6.5. This is the range within which nutrients are most available to plants.
A high pH can reduce the availability of iron, manganese, boron, copper, zinc and phosphorous to plants. A low pH can reduce the availability of potassium, sulphur, calcium, magnesium and phosphorus.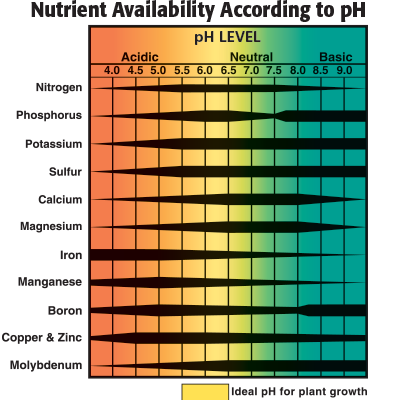 If the pH moves out of the desired range, it can be lowered by the addition of phosphoric or nitric acid to the solution, or raised by adding potassium hydroxide. There are pH adjusters better suited for vegetative growth, and others for fruiting phase.
The pH can be tested by using an indicator solution or a pH meter. This should be done daily. Calibration of the pH meter should be done weekly and the probe kept wet at all times.
Chart indicates Maximum EC which is what the plants require before harvesting. Therefore start will low EC and increase as plants grow.
| | | | |
| --- | --- | --- | --- |
| Plant | pH | Maximum EC | PPM |
| African Violets | 6.0-7.0 | 1.2-1.5 | 840-1050 |
| Anthurium | 5.0-6.0 | 1.6-2.0 | 1120-1400 |
| Antirrhinim | 6.5 | 1.6-2.0 | 1120-1400 |
| Aphelandra | 5.0-6.0 | 1.8-2.4 | 1260-1680 |
| Artichoke | 6.5-7.5 | 0.8-1.8 | 560-1260 |
| Asparagus | 6.0-6.8 | 1.4-1.8 | 980-1260 |
| Aster | 6.0-6.5 | 1.8-2.4 | 1260-1680 |
| Banana | 5.5-6.5 | 1.8-2.2 | 1260-1540 |
| Basil | 5.5-6.5 | 1.0-1.6 | 700-1120 |
| Bean (Common) | 6.0-6.5 | 1.8-2.4 | 1400-2800 |
| Beans (Italian bush) | 6.0-6.5 | 1.8-2.4 | 1400-2800 |
| Beans (Lima) | 6.0-6.5 | 1.8-2.4 | 1400-2800 |
| Beans (Pole) | 6.0-6.5 | 1.8-2.4 | 1400-2800 |
| Beetroot | 6.0-6.5 | 0.8-5.0 | 1260-3500 |
| Begonia | 6.5 | 1.4-2.4 | 980-1260 |
| Bell peppers | 6.0-6.5 | 1.8-2.8 | 1400-2000 |
| Black Currant | 6.0 | 1.4-1.8 | 980-1260 |
| Blueberry | 4.0 -5.0 | 1.8-2.0 | 1260-1400 |
| Broad Bean | 6.0-6.5 | 1.8-2.2 | 1260-1540 |
| Broccoli | 6.0-6.5 | 2.8-3.5 | 1960-2450 |
| Bromeliads | 5.0-7.5 | 0.8-1.2 | 560-840 |
| Brussell Sprout | 6.5-7.5 | 2.5-3.0 | 1750-2100 |
| Cabbage | 6.5-7.0 | 2.5-3.0 | 1750-2100 |
| Caladium | 6.0-7.5 | 1.6-2.0 | 1120-1400 |
| Canna | 6.0 | 1.8-2.4 | 1260-1680 |
| Cannabis Indica | 6.0-6.5 Soil – 5.8 Hydro/Coco | 2.4-2.8 | 1680-1960 |
| Cannabis Sativa | 6.0-6.5 Soil – 5.8 Hydro/Coco | 1.0-1.5 | 700-1050 |
| Capsicum | 6.0-6.5 | 1.8-2.2 | 1260-1540 |
| Carnation | 6.0 | 2.0-3.5 | 1260-2450 |
| Carrots | 6.3 | 1.6-2.0 | 1120-1400 |
| Cauliflower | 6.0-7.0 | 0.5-2.0 | 1050-1400 |
| Celery | 6.5 | 1.8- 2.4 | 1260-1680 |
| Chicory | 5.5-60 | 2.0-2.4 | 1400-1600 |
| Chives | 6.0-6.5 | 1.8-2.4 | 1260-1540 |
| Chrysanthemum | 6.0-6.2 | 1.8-2.5 | 1400-1750 |
| Cucumber | 5.8-6.0 | 1.7-2.5 | 1190-1750 |
| Cymbidiums | 5.5 | 0.6-1.0 | 420-560 |
| Dahlia | 6.0-7.0 | 1.5-2.0 | 1050-1400 |
| Dieffenbachia | 5.0 | 1.8-2.0 | 1400-1680 |
| Dracaena | 5.0-6.0 | 1.8-2.4 | 1400-1680 |
| Eggplant | 5.5-6.5 | 2.5-3.5 | 1750-2450 |
| Endive | 5.5 | 2.0-2.4 | 1400-1680 |
| Fennel | 6.4-6.8 | 1.0-1.4 | 700-980 |
| Ferns | 6.0 | 1.6-2.0 | 1120-1400 |
| Ficus | 5.5-6.0 | 1.6-2.4 | 1120-1680 |
| Fodder | 6.0 | 1.8-2.0 | 1260-1400 |
| Freesia | 6.5 | 1.0-2.0 | 700-1400 |
| Garlic | 6.0 | 1.4-1.8 | 980-1260 |
| Gerbera | 5.0-6.5 | 2.0-2.5 | 1400-1750 |
| Gladiolus | 5.5-6.5 | 2.0-2.4 | 1400-1680 |
| Hot Peppers | 6.0-6.5 | 1.8-2.8 | 1400-2000 |
| Impatiens | 5.5-6.5 | 1.8-2.0 | 1260-1400 |
| Lavender | 6.4-6.8 | 1.0-1.4 | 700-980 |
| Leek | 6.5-7.0 | 1.4-1.8 | 980-1260 |
| Lemon Balm | 5.5-6.5 | 1.0-1.6 | 700-1120 |
| Lettuce | 5.5-6.5 | 0.8-1.2 | 560-840 |
| Marjoram | 6.0 | 1.6-2.0 | 1120-1400 |
| Marrow | 6.0 | 1.8-2.4 | 1260-1680 |
| Melon | 5.5-6.0 | 2.0-2.5 | 1400-1750 |
| Mint | 5.5-6.0 | 2.0-2.4 | 1400-1680 |
| Monstera | 5.0-6.0 | 1.8-2.4 | 1400-1680 |
| Mustard Cress | 6.0-6.5 | 1.2-2.4 | 840-1680 |
| Okra | 6.5 | 2.0-2.4 | 1400-1680 |
| Onions | 6.0-6.7 | 1.4-1.8 | 980-1260 |
| Pak-choi | 7.0 | 1.5-2.0 | 1050-1400 |
| Palms | 6.0-7.5 | 1.6-2.0 | 1120-1400 |
| Parsley | 5.5-6.0 | 0.8-1.8 | 560-1260 |
| Parsnip | 6.0 | 1.4-1.8 | 980-1260 |
| Granadilla | 6.5 | 1.6-2.4 | 840-1680 |
| Paw-Paw | 6.5 | 2.0-2.4 | 1400-1680 |
| Pea | 6.0-7.0 | 0.8-1.8 | 980-1260 |
| Peas (Sugar) | 6.0-6.8 | 0.8-1.8 | 980-1260 |
| Pepino | 6.0-6.5 | 2.0-5.0 | 1400-3500 |
| Peppers | 5.8-6.3 | 1.8-2.8 | 1400-2000 |
| Pineapple | 5.5-6.0 | 2.0-2.4 | 1400-1680 |
| Potato | 5.0-6.0 | 2.0-2.5 | 1400-1750 |
| Pumpkin | 5.5-7.5 | 1.8-2.4 | 1260-1680 |
| Radish | 6.0-7.0 | 1.6-2.2 | 840-1540 |
| Red Currant | 6.0 | 1.4-1.8 | 980-1260 |
| Rhubarb | 5.0- 6.0 | 1.6-2.0 | 840-1400 |
| Rosemary | 5.5-6.0 | 1.0-1.6 | 700-1120 |
| Roses | 5.5-6.0 | 1.5-2.5 | 1050-1750 |
| Sage | 5.5-6.5 | 1.0-1.6 | 700-1120 |
| Silverbeet | 6.0-7.0 | 1.8-2.3 | 1260-1610 |
| Spinach | 5.5-6.6 | 1.8-2.3 | 1260-1610 |
| Squash | 5.0-6.5 | 1.8-2.4 | 1260-1680 |
| Strawberries | 5.5-6.5 | 1.8-2.2 | 1260-1540 |
| Sweet Corn | 6.0 | 1.6-2.4 | 840-1680 |
| Sweet Potato | 5.5-6.0 | 2.0-2.5 | 1400-1750 |
| Swiss Chard | 6.0 6.5 | 1.8-2.3 | 1260-1610 |
| Taro | 5.0-5.5 | 2.5-3.0 | 1750-2100 |
| Thyme | 5.5-7.0 | 0.8-1.6 | 560-1120 |
| Tomato | 5.5-6.5 | 2.0-5.0 | 1400-3500 |
| Turnip | 6.0-6.5 | 1.8-2.4 | 1260-1680 |
| Watercress | 6.5-6.8 | 0.4-1.8 | 280-1260 |
| Watermelon | 5.8 | 1.5-2.4 | 1260-1680 |
| Zucchini | 6.0 | 1.8-2.4 | 1260-1680 |