ROOTiT Heat Mat Temperature Controller
R690.00
In stock
Description
The ROOTiT Heat Mat Temperature Controller (or thermostat, by another name) is the easiest way yet to dial in root and substrate temperatures in your plant propagation section! All you need to do is plug a ROOTiT Heat Mat into the controller and set the required temperature – no confusing or dangerous wiring, or hard-to-understand controller programming!
Hydroponic.co.za will include a free universal plug adaptor with each thermostat (Red circle below)
Plug in any suitable 2-pin plug heating device – up to 1000W / 4.3A (Yellow circle below)
Mount or insert temperature sensor into growing medium (

Blue

circle below)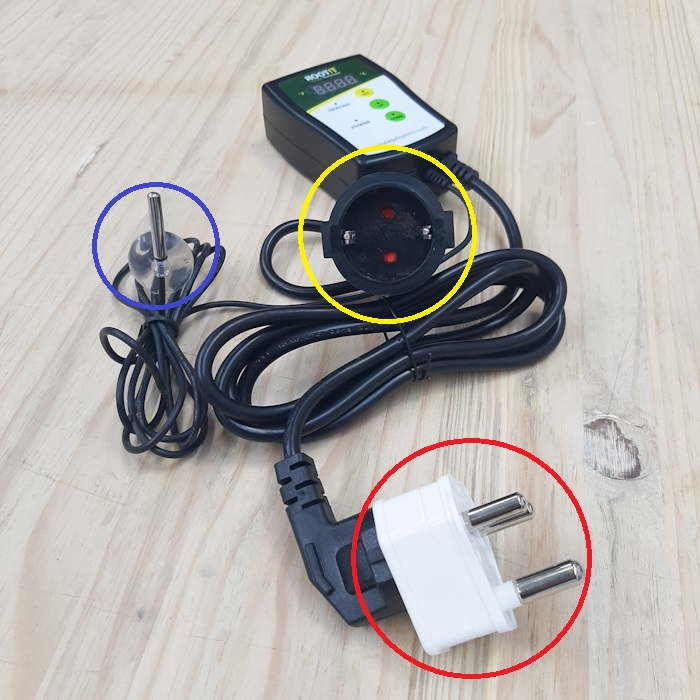 A ROOTiT Heat Mat Temperature Controller helps maintain the optimum rooting temperature for faster seedling and cutting growth. It does so by allowing you greater control over your growing environment, by monitoring the temperature and switching your heat mat on and off as required, within a pre-defined temperature range.
An easy to read digital display ensures that users are able to monitor temperatures and also take action where required.
Key features and specs:
1-year manufacturer's warranty
Unit is small enough to fit into most grow areas without difficulty
10° C ~ 30° C controllable temperature range
Simple operation
Input: 230 V / 50 Hz
Max Load: 1000 W / 4.3 A
Unit dimensions: 13 cm high x 8 cm wide x 4 cm thick
Temperature sensor cable length: 1.9 m
Electrical cord length (from wall socket to unit): 1.7 m
Cord length to 2-pin socket: 25 cm