Garland Standard Garden Tray
R130.00
Out of stock
Description
Garland Standard Garden Tray – The smallest in Garland's range of tough injection molded garden trays. An ideal water reservoir tray for pots and seed trays.
9 Liter internal capacity, made from recycled polypropylene.
Size: 57cm Long x 38.5cm Wide x 5cm High (External)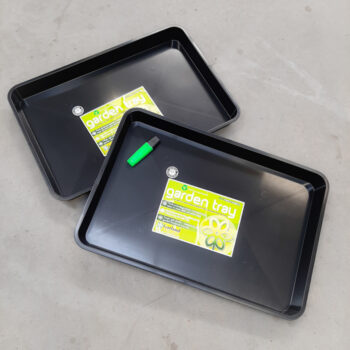 A Garland Standard Garden Tray can come in handy for a number of uses, including:
Microgreen cultivation
Decompressing small coco coir bricks
Mixing small amounts of custom substrates and additives together
Can be used as a bin when trimming plants, especially in a grow tent, where space may be limited
Use as watering tray with an Easy2Go self-watering kit
Can be used to catch runoff when flushing or watering potted plants
Can be used to water seedling trays from underneath, so that newly germinated seedlings don't get pushed over by water from above
Garland garden trays are also available in various larger sizes:
1.2 Meter Square Tray
1 M Square Tray
80 cm Square Tray
60 cm Square Tray
Rectangle Tray (100cm Long, 40cm Wide, 5cm High)
Giant Plus Tray 1.2m x 55cm x 5cm
Titan Tray (Dimensions, external (lip included): 100cm Long, 55cm Wide, 15cm High)
Although the trays can be used for many reason, they are most commonly used as drip/catchment trays or hydroponic grow beds (filled with clay balls) when gardening is concerned.