Blumat Classic Standard Sensor
R130.00
In stock
Description
The Blumat Classic Standard Sensor keeps indoor plants watered automatically when they need it! A simpler version of the Blumat Tropf System, where the water is drawn from any container through a thin tube and released directly through the clay cone "carrot" into the plant's root zone.
Blumat Classic is the tried and tested solution for the reliable watering of all kinds of indoor plants. Simple and totally safe to use, at the weekend, on holiday or all year round. Also suitable for the watering of balcony plants when you're on holiday in the XL version.
You can regulate the amount of water that each plant will receive be adjusting the height of the water container relative to the plant pot: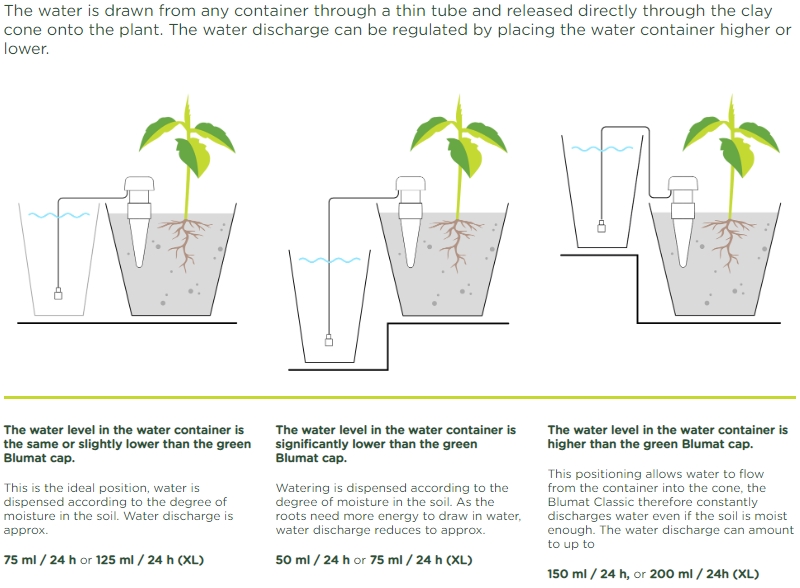 Follow the quick-start guide below to install you Blumat Classic Sensors ("carrots").
Extra care can be taken by priming the 3mm feeding tube beforehand to ensure that it is full of water as well
Step 4 can also be done with the carrot submerged underwater – making sure that there are absolutely no air bubble inside the system.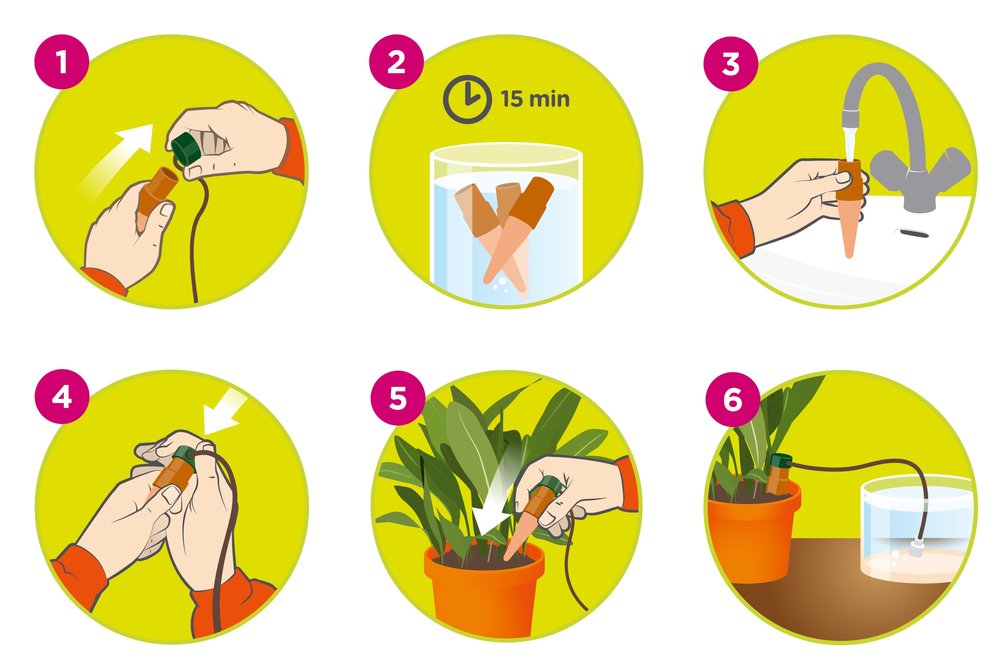 More useful information HERE.
Whether a person can use a mineral nutrient solution for feeding in conjunction with the Blumat system is debatable – as the small diameter pipping may easily clog up over time with normal salt build-ups and nutrient calcification. A flushing and rinsing agent like FlashClean may have to be used periodically to dissolve any nutrient build-up inside the piping and/or clay cone "carrots".  An alternative would be to top-feed with your favorite nutrient range as needed and to rely on the Blumat system for regular watering in between feedings.
Your Blumat Classic Standard Sensor will take the hassles out of keeping your potted indoor plant hydrated and healthy !