Starke Ayres Vegetable Seed Packs
R30.00
Description
Starke Ayres Vegetable Seed Packs are now available in a number of vegetable seed varieties.
The seeds are treated against fungi and parasites, and should only be used for PLANTING, NOT FOR CONSUMPTION. Store in a safe, cool, dry place.
Consult the Starke Ayres Planting Guide to find out which types of vegetable seeds can be planted right now !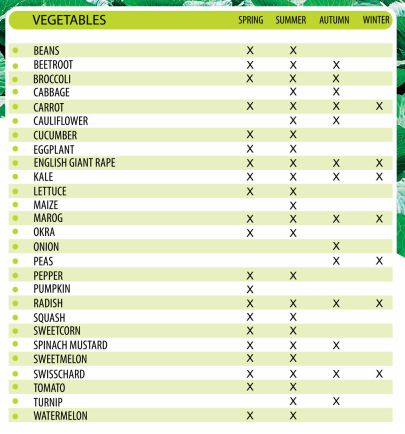 Starke Ayres Vegetable Seed Packs, varieties:
Bean – Bush Bean , "Contender" / "Star 2000"
Carrot – "Kuroda"
Chili – Hot Chilli Pepper, "Tracer"
Cucumber – "Ashley"
Eggplant / Brinjal – "Black Beauty"
Lettuce ( Head ) – "Great Lakes"
Okra – "Clemson Spineless"
Sweet Pepper / Green Pepper  – "California Wonder"
Pumpkin – "Flat White Boer"
Spinach – Swiss Chard, "Fordhook Giant"
Swiss Chard – Baby Spinach, "Dash"
Squash – "Waltham" / "Rolet"
Sweetmelon – "Hales Best"
Tomato – "Heinz 1370" / "Cherry Little Wonder" / "Roma VFN" / "Rodade"
Watermelon – "All Sweet" / "Crimson Sweet"
Read up about the ideal conditions that your seeds require for best results. Ideally, the newly sprouted seeds should be left undisturbed ( except for watering ) until the new seedlings are ready to transplant – the bigger the seedling is when first transplanted, the less stressful the transition will be on the plant. Jiffy 7 Pellets are great for germination, and seedlings can be potted into 1.5lt or 5lt Thermoform Plant Pots, using a seedling mix, like Freedom Farms SeedStarter. Once repotted, water seedlings well, to allow the substrate to compact and settle onto the seedling's root ball. Light feeding can the begin, using nutrients of your choice, given in concentrations that fall in line with the feeding requirements of the type of plant at its current size.