Digital Temperature Controller
R300.00
In stock
Description
The Digital Temperature Controller is ideal for maintaining a precise temperature, preventing overheating or excessive cooling. You can set the temperature in 0.1 C increments.  This 220 Volt AC Digital Temperature Controller has two relay switches (one for heating and one for cooling), and is capable of handling 10 Amps/250 Volt AC on each relay.
STC-1000 basic operation:
Buttons:
On-Off button is for activation and deactivation
SET button used to set the thermostat, if you hold for 2 seconds the thermostat displays the four menu functions F1, F2, F3, F4, (Accessed using up and down keys)
When in function mode, arrow keys are used to increase or lower values (While holding down the SET button as well)
F1: Set your ideal temperature
F2: Variance from F1 temperature before relays engage
F3: Compressor delay time (in minutes) between switching on and off (Helps to protect fridges / cooling compressors against excessive wear-and-tear when coupled to the controller)
F4: Temperature calibration – Calibrate the STC-1000 to high accuracy against trusted thermometers
When NOT in function mode, pressing the up or down arrows will switch the display to the set ideal temperature or the set relay variance engagement for a few seconds
NOTE: The controller does NOT provide 220 V power directly to the heating or cooling relay circuits – each circuit should be wired to draw power from a 220 V power source, only using the relays in the controller as each circuit's "on/off" switch.
Simple wiring:
From a 3-point plug – wire up the unit's power supply.
Using your heating or cooling devices' own separate power cords – run the live (brown) wire of the cord through the relevant relay switch in the controller.
(You will end up with 3 x 3-point plugs that will need to be plugged in….. 1 to power the controller, 1 to power the heating device and 1 to power the cooling device)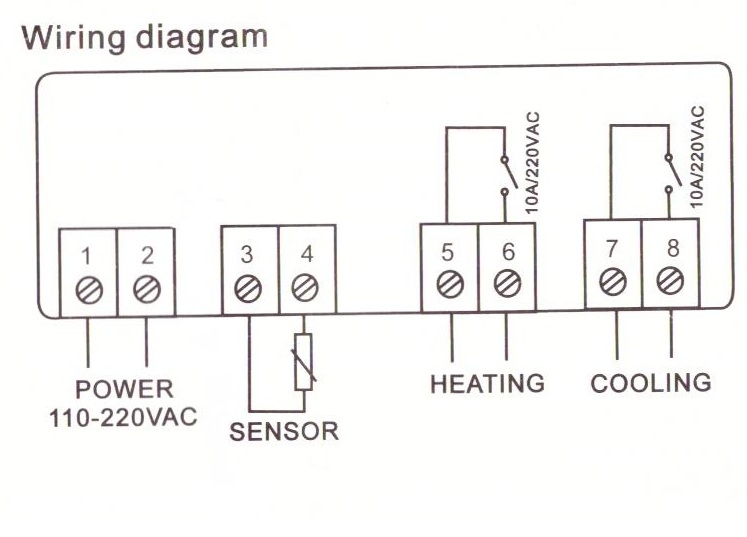 Bridged wiring:
For those more adept in electrical wiring, a single (bridged) power supply cord can be used.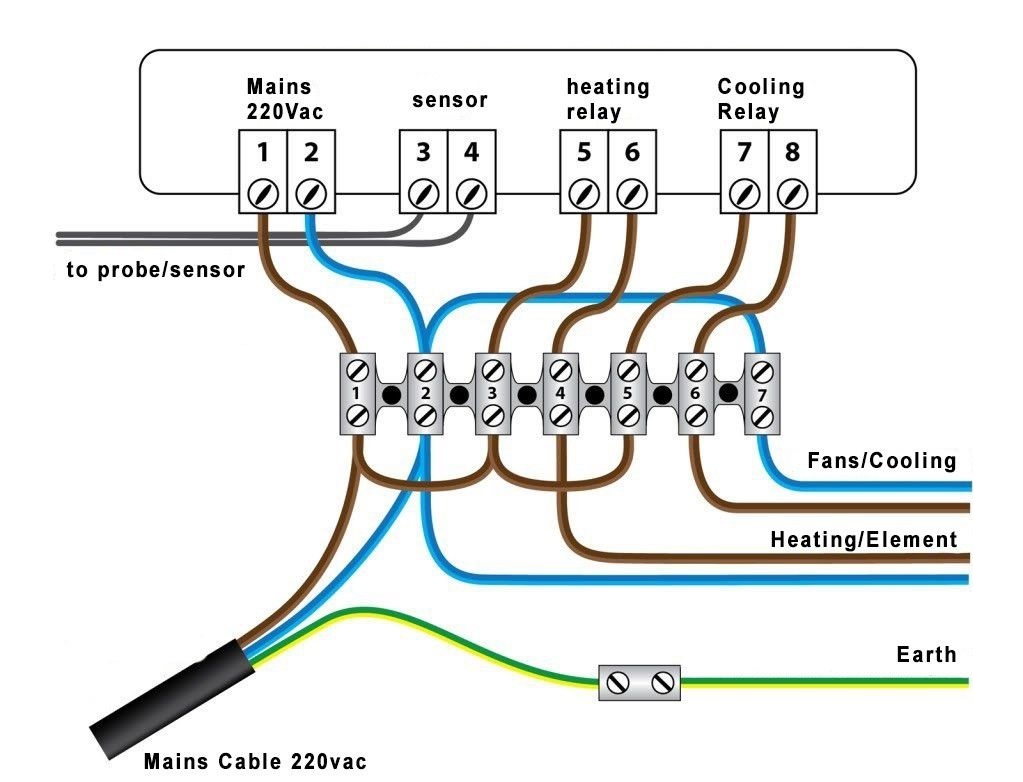 Technical Specifications:
Model: STC-1000
Size: 85 x 70 x 35mm
Colour: Black
Temperature Measuring Range: -50°C to 99°C
Resolution: 0.1°C
Accuracy: +- 1° C
Sensor Error Relay: 1 minute
Power Supply: AC 220V
Power Consumption: <3W
Sensor: NTC sensor (1PC)
Relay Contact Capacity: Two Relay Cool 10A/250VAC; Heat 10A/250VAC
Ambient Temperature: 0°C to 60°C
Storage Temperature: -30°C ~ 75°C
Relative Humidity Tolerance: 20% to 85% (No condensate)
Sensor Length: 1.0m
Compact size with clips for insertion into electrical panels.
General Guide to for Optimum Temperature and Humidity – please note that figures may vary depending on plant species.
| | | | | |
| --- | --- | --- | --- | --- |
| | Humidity Day | Humidity Night | Temp Day | Temp Night |
| Seedlings | 60% | 55% – 60% | 24°C | 24°C |
| Clones | 100% – 70% | 100% – 70% | 24°C | 24°C |
| Vegetative | 60% | 50% – 60% | 24°C | 21°C |
| Flowering | 50% | 50% | 24°C | 21°C |