Clone Dome Light Frame
R500.00
In stock
Description
The Clone Dome Light Frame is another great addition to the Pot Scrog's arsenal of simple and effective solutions to growers' everyday problems.
The light frame was designed to work with 85W Fluorescent CFL lamps that have an E27 fitting, but other E27 lamps and bulbs can be used as well, as long as they can be plugged directly into a regular power outlet and have the right intensity and spectrum to germinate or root cuttings under. ( An E27 light fitting has a screw-in thread with a   27mm diameter )
Learn more about the art of cloning and plant propagation HERE.
The base of the Clone Dome Light Frame has also been designed to be large enough to accommodate various sizes of plant propagators and can even house a Garland XL High Dome Propagator, as can be seen in the picture below…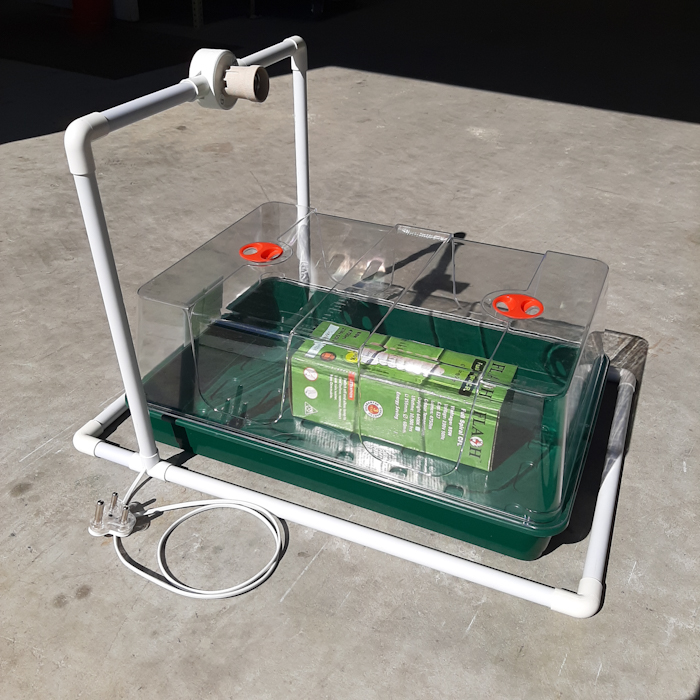 Any propagator or humidity dome with base dimensions of up to 44cm x 64cm can sit inside the base of this unit.
The height of the center of the E27 light fitting is approx. 44 cm above the surface on which the light frame rests on, which means that the unit will easily accommodate various types of high dome propagators.
The light frame comes with a 1m long electrical cord and standard 3-point South African plug.