MistMaker 3 Ultrasonic Humidifier
R1 300.00
In stock
Description
The MistMaker 3 Ultrasonic Humidifier is a step up from smaller, single-disk, mist-makers, like the Sobo Mist Maker, capable of atomizing more than 1.2 liters of water per hour!
This ultrasonic fogger/humidifier features 3 x replaceable 20mm ceramic disks, powered by a transformer with a 72W, 24V AC output!
MistMaker's ceramic plates converts electrical oscillation into mechanical oscillation, creating the micron sized fog or vapor. This oscillation also produces negative ions that attach to tiny particles in the air. This gives the particles an electrical charge, causing them to clump together and "fall" out of the air, leaving it cleaner.
The MistMaker 3 Ultrasonic Humidifier is a great tool to use to increase humidity in an enclosed space. The MistMaker can also be used for foliar feeding or aeroponic root feeding, as plant leaves and roots are able to absorb the minute water particles very easily.
Solutions with very high or very low pH values should be avoided, as this most cause corrosion. The atomizing film should be kept clean and often be washed to maintain maximum fogging capacity. Mineral salt buildups can be dissolved using rinsing agents like FlashClean.
The mist head should be installed flat (horizontally), with the water level 30 – 50 mm higher than the ceramic plates / 10 mm higher than the top of the square-shaped water level sensor.
Never touch the ceramic plates or the water level sensor. keep fingers well away from ceramic disks during operation.
The water level sensor will only function properly when TAP WATER is used. Distilled water will not allow the sensor to be triggered and may cause the unit to remain on when no water is present, causing burn-out.
The container that the unit is operating in should be large enough to accommodate the water splashing that will be generated by the unit's action.
Do not use abrasive cleaners on any part of the unit.
Floats that house the MistMaker's head are available – this allows the head to "float" at the right depth inside the water container, while the level of the water in the container recedes as the water is atomized.
An alternative method of housing the mist head is depicted below. This method uses a fan to distribute the fog/vapor around a space and the water level remains at the same height, being fed by the upside-down reservoir every time an air-gap is formed by the receding water line…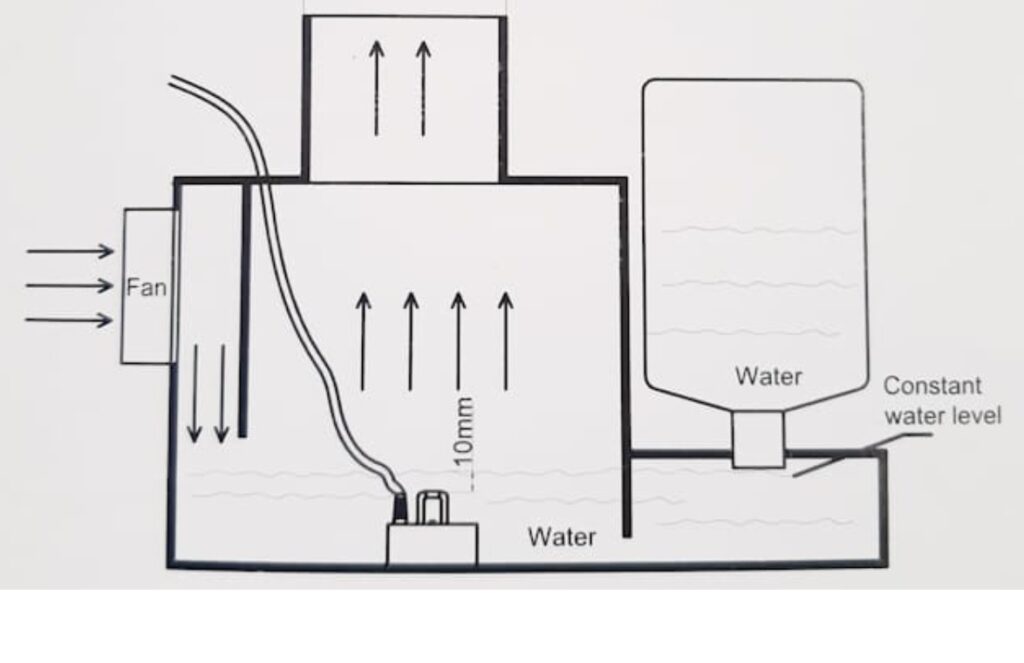 Other Specifications:
Amps = 2.8A
Cord length = 10m, fitted with E.U. plug
Mist head dimensions = 68mm diameter, 55mm height (incl. water level sensor)
Operating Temperature = 5 to 50 deg C
* Pen for scale