BudBox PRO White TITAN 2 3.6m x 2.4m x 2m
R11 650.00
Out of stock
Description
BudBox PRO White TITAN 2 3.6m x 2.4m x 2m grow tent features a strong framework to support more weight, metal click-lock connectors to keep the whole tent stable and sturdy, high quality tent fabric with precision stitching to keep light inside at all times. A green tinted viewing window lets you keep a close eye on your growing environment while eliminating any potential light leaks. In short, the BudBox Pro grow tent is a premium grade grow tent.
BudBox Pro – superbly designed and constructed, premier grow tents
Pro White material offers class leading PAR results
Strong, powder-coated 25mm steel framework
Metal, click-lock connectors for enhanced structural strength and long-term stability
Creates a sealed area that locks in light, smells and sounds
Tough, thick, durable yet lightweight outer shell that's easy to fit in minutes
Features a green tinted viewing window, to keep a close eye on your growing environment without unzipping the door
Intake and extraction ports with tightening drawstrings attached, large enough for acoustic ducting
Military-grade, high-quality zips
Large ventilation panel/s for increased passive air flow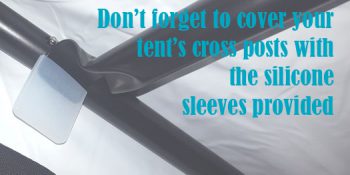 BudBox™ is still the ONLY grow tent that takes the time and care to powder coat our poles and connectors, delivering the best possible anti-corrosion protection and a very clean and reflective look.
Let's talk about light. You plants need PAR light to grow and flower. PAR is an acronym for Photosynthetic Active Radiation; plants love the blue and red light from 400 to 750nm. Blue light tends to help the plants grow strong leaves and stems and the red part helps with flowering. BudBox™ Pro–White models reflects more PAR than Mylar material and at the same time reduce troublesome hot spots (concentrated heat energy) and, as such, will always the professional's choice when it comes to horticulture. Not only is the flat white material reflecting more PAR light directly to your plants it reflects less of the overall unused spectrum. With light energy comes heat energy and the Pro-white lining will always run cooler than a standard Mylar tent. The Mylar material will reflect more heat energy, therefore, will run hotter (around 6-8degC) as such, the these units require greater ventilation, or the use of less powerful lighting, so the environment does not overheat and damage your plants.
BudBox PRO White TITAN 2 3.6m x 2.4m x 2m Contains:
1 x Carry bag
1 x White lined fabric tent
20 x Upright poles
28 x Horizontal bars
8 x Corner pieces
12 x 4-way connectors
6 x Hanging rails
12 x Plastic hanging rail covers
8 x Hanging straps
1 x Waterproof spill-tray
Dimensions:
240cm x 360cm x 200cm
Specs:
Pole thickness: 25mm rolled steel
Connector pieces: Rolled steel
Ventilation panels: 6 (64cm x 25cm)
Viewing window: Yes
Irrigation bar and port: Yes (1 x irrigation bar, 4 x irrigation ports)
Intake ports: 2 (33cm diameter)
Extraction ports: 6 (33cm diameter)
Cable ports: 4 (10cm diameter)
Cooltube ports: 6 (22cm diameter)
Doors: 2 (front doors that zip all the way around to the sides), 4 x side access doors