Sonoff Zigbee Mini Smart Switch
R260.00
In stock
Description
The Sonoff Zigbee Mini Smart Switch works with a Sonoff Zigbee Bridge which in turn interfaces with the eWeLink home automation smartphone app, allowing you to monitor and automate your grow area, or other spaces like your home or office.
You can then set up timed schedules or "Scenes" from the eWeLink app on your phone, to trigger these Zigbee smart switches (or regular WiFi smart switches).
Timers and schedules can be set up from the eWeLink app (Even schedules with 100's of short ON and OFF cycles per day – as is necessary when doing aeroponics)
"Scenes" can also be set up, using data from Sonoff Zigbee Temperature and Humidity Sensors… when certain conditions are met, a smart switch (Wifi or Zigbee) turns ON or OFF, e.g: IF Temperature sensor reads more than 28 degrees, turn Fan ON.
A Sonoff Zigbee Mini Smart Switch can also be used as a Zigbee router to help transmit the ZigBee signal to ensure a stable connection when multiple Zigbee devices are used in your home.
IMPORTANT:
Requires a WiFi-to-Zigbee hub to work – please purchase the Sonoff Zigbee Bridge if you do not already have one.
No system is perfect – always monitor your automation to ensure that your plants aren't in danger!
The reliability of communication between the battery-powered Zigbee Temperature and Humidity Sensor and the mains-powered Zigbee Bridge is determined by the strength of the battery in the sensor, mains power supply to to bridge, and the distance between the Zigbee sensors and Zigbee smart switches and the Zigbee bridge.
Place all of the Zigbee equipment close to each other to optimize communication (Being in the same room or even the next room should be sufficient in most cases, although the sensor batteries will deplete quicker when placed further away from the bridge)
Zigbee routers can be installed if the sensors have to be installed far away from each other.
The Zigbee bridge also needs to be installed where there is a strong WiFi signal in order to be able to communicate with your eWeLink app effectively.
You can use the information from Zigbee sensors to turn regular WiFi Smart switches ON or OFF as well – you are not limited to only using Zigbee smart switches.
Regular WiFi smart switches however, of course need strong WiFi signal to operate properly when used in a eWeLink app "Scene".
Not all electrical equipment is suitable for remote operation – some may "light up" (Power up) when its smart switch engages (turns ON), but it may still need a person to press a button on the device, or its remote, before it will actually start to OPERATE.
Specifications
Model: ZBMINI;
Input: 100-240V AC 50/60Hz;
Output: 100-240V AC 50/60Hz;
Zigbee: IEEE 802.15.4  2.4GHz;
Max. Load: 10A;
Material: PC
Integrated manual ON/OFF switch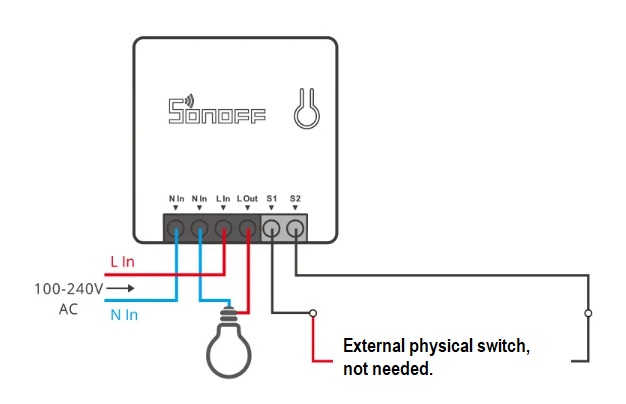 Get more information and user manuals directly from the Sonoff website: HERE