RAM Oscillating Multi Fan 180mm
R500.00
In stock
Description
The RAM Oscillating Multi Fan 180mm can oscillate or be set in one position and can be attached to tables, shelving and vertical poles ( 16 to 25 mm ). The fan blades are 180 mm in diameter, housed inside a 220 mm diameter grill. The fan has a wide, rubber lined mouth with a strong metal spring-clip attachment to easily clip onto surfaces, and also comes with a 2nd attachment, specifically made to install the fan against vertical grow tent poles. The fan comes with a 2-pin plug attached to a 1.4 m long power cord and has 2 speed settings for the 20 Watt fan motor, which runs quietly and moves a lot of air.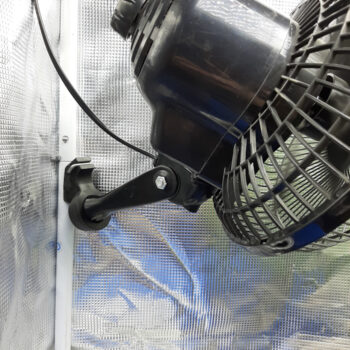 NB!! – ALWAYS use the tent pole mounting bracket to mount the fan onto a vertical tent pole ( Photo to the left ). DO NOT use the flat table mount clip for this! THE FAN NEEDS TO OSCILLATE HORIZONTALLY FROM SIDE TO SIDE, NOT UP AND DOWN!!!
The fan head can be adjusted to blow in the right direction after it has been clipped into place, enabling you to get the circulation that you want very easily ( static ), or can be used in oscillating mode, which rotates the fan in an arc of just over 45 degrees, so that it doesn't bump into tent walls.
Using a RAM Oscillating Multi Fan 180mm to create good airflow around your plants has many benefits: It makes them grow up stronger, able to transport nutrients better, more resistant to pests, diseases and molds, helps with plant respiration and leaf temperature, and also helps prevent airy and loose flower clusters.
( Don't forget to give them a wind "break" every now and again ; ) )