EGrowr Remote Hydroponic Monitoring System
R7 750.00
In stock
Description
The EGrowr Remote Hydroponic Monitoring System lets you monitor your plants' growing environment anytime, anywhere!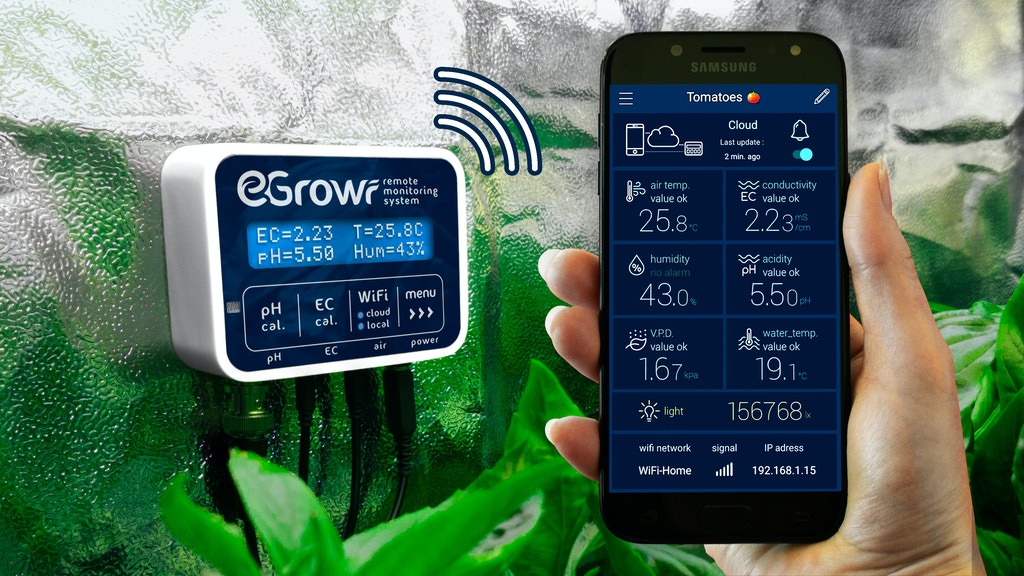 The EGrowr System continuously measures:
pH of nutrient solution
E.C. of nutrient solution
Air temperature
Air humidity
Water temperature
Light intensity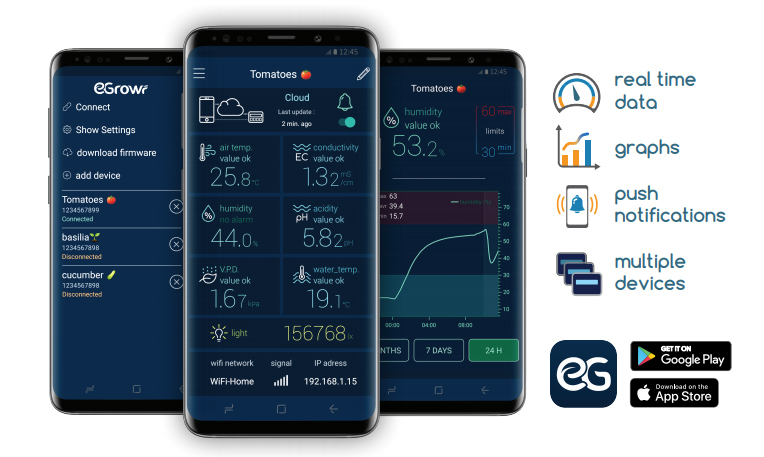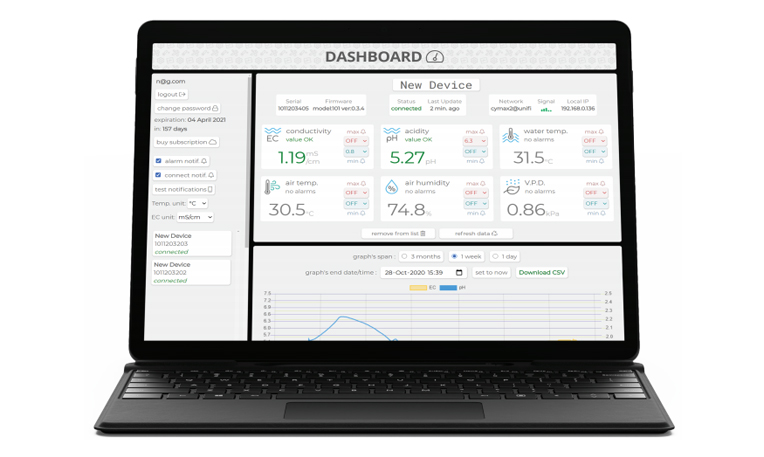 Access the above real-time and historical data through a secured cloud server* or direct Wi-Fi/Lan connection, using the Egrowr mobile app or web dashboard.
ALARM NOTIFICATIONS – Set up your EGrowr to send  push notifications to your smartphone when a measured value is too high or too low.
MULTI-DEVICE READY – You can monitor up to 10 Egrowrs and follow all your set-ups from a single app.
SAVES TIME AND INCREASES YIELDS – When you are using a the EGrowr system you don't have to manually check your growing environment or nutrient solutions, saving you time and effort. The Egrowr also allows you to act as soon as something in your system needs attention, allowing your plants to grow to their full potential, because you are able to keep their environment ideal for the maximum amount of time. ( Pro Tip: Add smart switches to your hydroponic setup and use them to correct your environment from your smartphone when the EGrowr notifies you about deviations in your environment. )
QUALITY PROBES THAT ATTACH USING MAGNETS – The Egrowr kit includes reliable sensors that attach to the sides of your nutrient reservoir using strong magnets, making for quick and easy installation. (PLEASE NOTE: We are waiting on magnets to arrive from the manufacturer, units purchased before magnets have arrived will be shipped WITHOUT magnets)
SUPPORT PAGE – A detailed setup and support page that includes things like Wi-Fi Setup, Firmware Upgrades, and Troubleshooting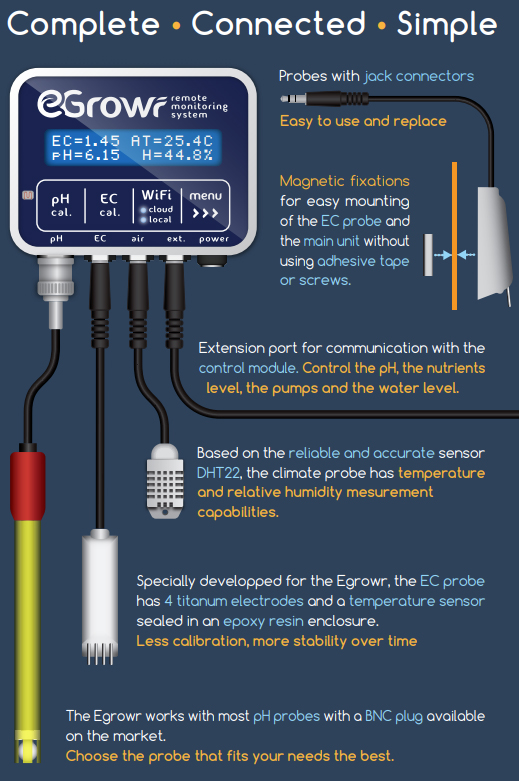 TECHNICAL SPECS:
GENERAL:
dimensions
81x60x40 mm
weight
350 gr
power
5V – 500mA
working temperature
0 – 40 C
storage temperature
0 – 80 C
waterproof
splash-proof
WIFI:
range
100m free-space
frequency
2.4 – 2.5 GHz
security
WPA2/WPA2-PSK
PH MESUREMENT:
compatibility
all pH probe
connector
BNC
measurement range
3 – 11 pH
CONDUCTIVITY MESUREMENT:
compatibility
Egrowr probe only
connector
stereo jack 3.5 mm
measurement range
0.01 – 9.99 mS/cm
resolution
0.01 mS/cm
accuracy
1.5%
life span
> 2 years
working temperature
5 – 40C
storage temperature
0 – 80C
waterproof
Yes
CLIMATE MESUREMENT:
compatibility
all DHT22 probes
connector
stereo jack 3.5 mm
measurement range
0-50C 0-99%RH
resolution
0.1C 0.1%RH
life span
2 years
working temperature
0 – 50C
storage temperature
0 – 80C
waterproof
No
* Fees for cloud storage may apply
Warranty:
Egrowr device, power supply, EC and climate probe : 12 months.
pH probe – 3 months.
The warranty period begins on the date of shipping.
1. The warranty only covers defects in the goods, i.e. hidden defects in workmanship or hidden defects in material.
2. The conditions to be able to use the warranty rights are in particular:
a) Proper storage and maintenance,
b) Proper installation of the devices,
c) Proper use, according to the manual.