EcoBuz Pest Pro
R95.00 – R205.00
Description
EcoBuz Pest Pro is a biological insecticide used for the suppression of common insect pests on plants as listed (Red Spider Mite, Whitefly, Tuta Absoluta and False Codling Moth). Pest Pro includes beneficial fungi, Beauvaria Bassiana, occurs naturally and commonly in soils.
Also in our shop…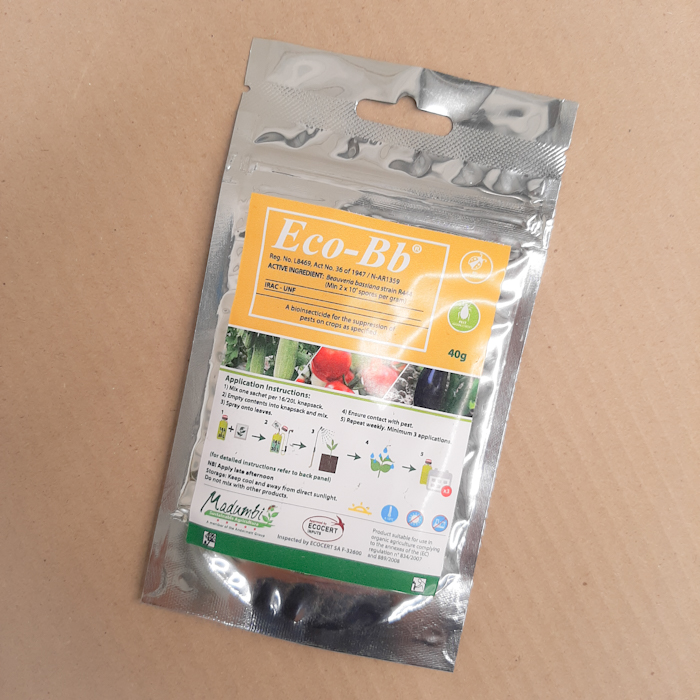 The strain used in EcoBuz Pest Pro was isolated from soil under a rooibos plant in Clanwilliam, South Africa.
Pest Pro germinates and penetrates the pest cuticle, growing and feeding until the target pest dies. Pest Pro has the ability to reduce any of the life cycle stages of the target pest. Oil-coated spores offer, UV protection, prevents drying out in unfavorable conditions and enhanced efficacy.
Directions for use:
Dilute 2g of Pest Pro in 1L of water and mix well.
Apply as a full cover spray (contact with the disease is important)
Apply when the pest is first noticed.
Repeat application every 7 – 14 days.
Pest Pro does not impose any risk of residues on harvested crops.