Budget All Mesh Bubble Bag Set
R1 300.00
In stock
Description
The Budget All Mesh Bubble Bag Set is ideal for Herbal Ice Extraction, with 25 micron Pressing Screen and Storage Bag. The bags are each 5 gallons ( 18.9Lt ) and there are 5 bags in the set, each with its own micron mesh.
TO ENSURE LONG LIFESPAN OF BAGS, USE BUCKETS WITH THE RIGHT DIAMETER TO FIT BAGS EASILY. DO NOT STRETCH TOPS OF BAGS OVER A BUCKET THAT IS TOO LARGE!
These bags are labeled and colour-coded to their corresponding micron ratings: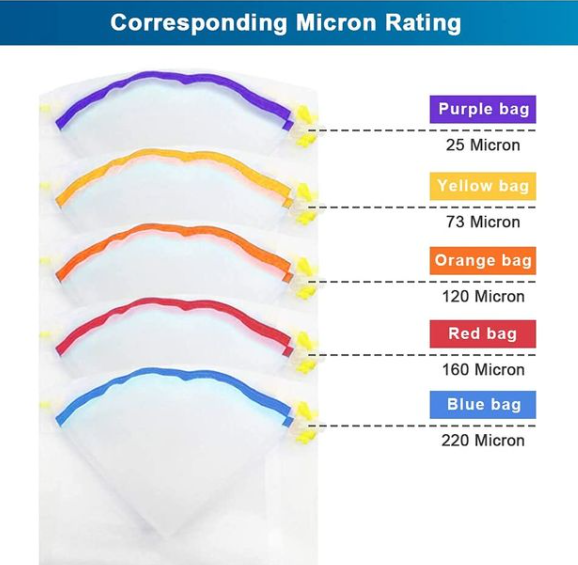 More on Ice Hash Extraction, using your Budget All Mesh Bubble Bag Set:
Ice hash extraction, a popular method in the world of cannabis concentrates, relies on the use of mesh micron bubble bags to obtain highly potent and pure trichomes. This process begins with freezing cannabis buds to make the trichomes, the resin glands that contain cannabinoids and terpenes, more brittle. Once frozen, the plant material is mixed with ice and water, creating a slurry. The mixture is then agitated, causing the trichomes to separate from the plant material. The combination of ice and water effectively breaks the trichomes off the plant, resulting in a milky liquid. This slurry is then poured through a series of mesh micron bubble bags, each with a different micron size. These bags act as filters, allowing only specific-sized trichomes to pass through, with the finest mesh capturing the smallest and most desirable trichomes.
The mesh micron bubble bags play a crucial role in the ice hash extraction process, serving as the filtration system that separates trichomes by size. Each bag corresponds to a specific micron measurement, representing the size of the openings in the mesh. The larger micron bags catch the larger trichomes, while the smaller micron bags capture the smaller, more potent ones. By layering the bags in descending order of micron size, the extraction process becomes highly efficient, yielding different grades of hash with varying levels of purity and potency. This method allows enthusiasts to customize their final product, tailoring it to their specific preferences and desired effects. The result is a highly versatile and sought-after concentrate that can be used in various consumption methods.