Aurora Plus Seed Germinator
R1 950.00
Out of stock
Description
The Aurora Plus Seed Germinator is here! Ideal for creating an ideal germination environment for your favorite (and sometimes expensive!) seeds. This heated seed germinator is powered by USB cable, so you can plug it in almost anywhere!

Get the Aurora Plus Seed Dairy App now !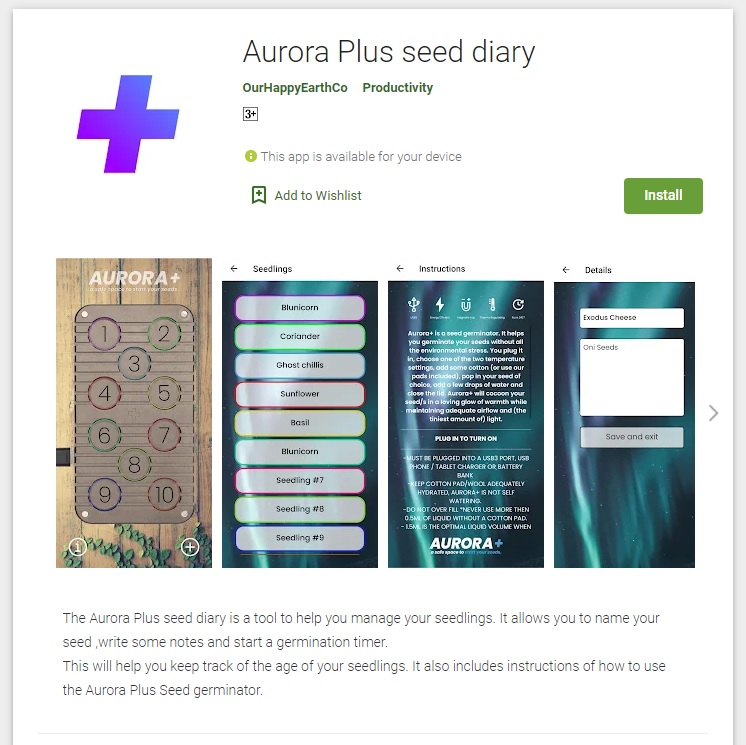 The Aurora Plus is on a whole new level when it comes to providing the best environment for sprouting your favorite seeds.
USB 3.0 powered, ultra convenient!
Aluminum chassis and lid that clips together magnetically for uniform heat distribution
2 heat settings ( 25°C and 30°C )
10 germination cavities
Ventilation Grooves that allow for air exchange and the promise of eventual sunlight
The Aurora Plus Seed Germinator also includes the following items to make your seed germination as easy as possible:
1 x 1m USB cable
20 x custom cut cotton pads
1 x seed handling tweezer
1 x 10ml Distilled Water
Basic Operation:
Place cotton disks inside the germinator
Add up to 1.5ml of distilled water to each disk
Place your seeds on the cotton pads using the tweezers and close the lid
Power up the germinator to the temperature setting of your choice
DO NOT allow any liquids to ever get into the USB connections!
Additional operation information:
Must be plugged into a USB 3.0 port, USB phone/tablet charger or battery bank
Keep cotton pad/wool adequately hydrated – the Aurora Plus is not self watering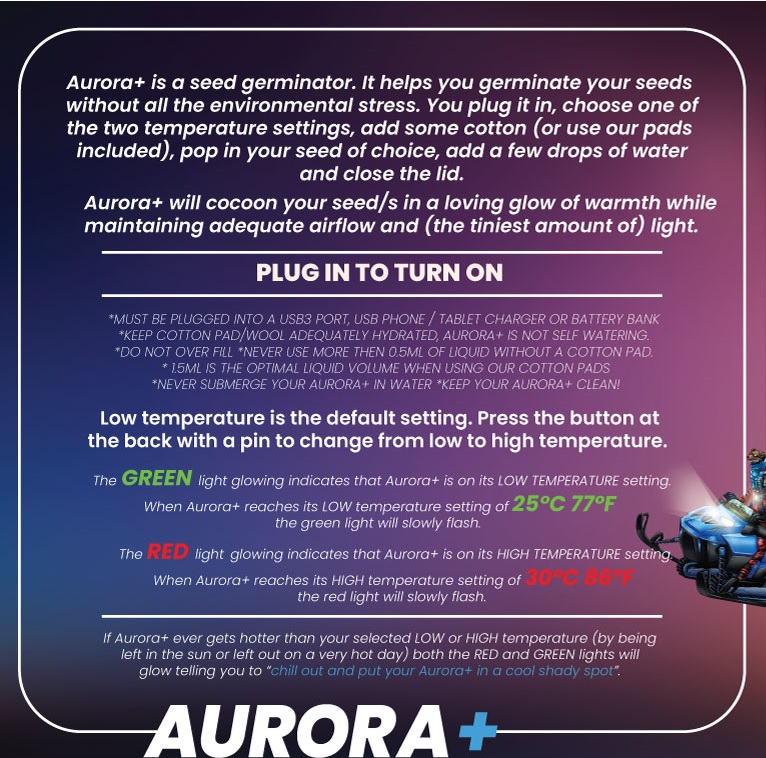 Coming soon…